Andy Baryer - Technology & Digital Lifestyle Expert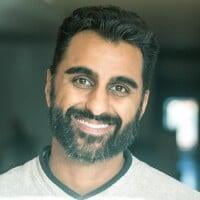 Andy Baryer - aka "Handy Andy DIY Tech Guy"
Andy Baryer is a freelance technology journalist, on-air presenter and content creator from Vancouver, Canada. Previously, he was a TV/Radio Producer and Host for GetConnected Media, Canada's longest-running technology show.

As an on-air technology expert and commentator, Andy is seen on Global BC, CBC, CTV, AMI, and BNN. He's also a regular at CES - the Consumer Electronics Show in Las Vegas every year.
As a writer, Andy has been a How-To Contributor at CNET and now currently writes about the impact of new technology for Futurithmic.com. Andy was also nominated for a Leo Award in 2013 for Screenwriting in a Lifestyle Series for GetConnected.

A self-professed geek, Andy's reviewed hundreds of gadgets and gizmos ranging from the latest smartphones to robotic lawnmowers.
Andy is passionate about sorting through the maze of new technology to find intuitive technology that impacts people's lives in a meaningful way.
Anyone who knows Andy, also knows him as "Handy Andy" for his love for Do-It-Yourself projects. Learning, playing, saving money and teaching others are all a driving force. He's spent years and countless enjoyable hours repairing, renovating and adding to his home. A recent project turned a "standard rental unit" into a "Tech-Lovers Airbnb Suite" where he quickly earned SuperHost status with one of the highest rated and most booked places in the area.
Watch the latest "Home DIY Tech Projects" on his YouTube Channel.
Outside of tech, Andy holds an MBA from Simon Fraser University. He's also known for his love for gardening, creating music and (when not in a global pandemic) hosting epic BBQ's at his home for all of his friends and family! He's also an avid musical whistler and has appeared on an episode of "The Debaters" on CBC and competed in the 2019 World Whistling Competition in California.

He can be heard weekly across Canada every Monday night at 11pm PST on The Shift with Shane Hewitt on GlobalNews Radio

Media Appearances across TV, Radio and Web